---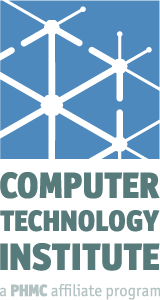 About CTI
The MCC Computer Technology Institute offers an Associate degree in Specialized Technology. The 62-credit degree can be completed in 15 months and has three concentrations to choose from: hardware, software or web design. You'll complete a high-tech core curriculum that includes courses in desktop support, routers, networking support, operating systems, office applications, VB .Net programming, microcomputer electronics, web programming and design, and data communications.
The Metropolitan Career Center: Computer Technology Institute has earned the following credentials:
CTI is nonprofit, we respond to you, the student.
100 S Broad St. 8th Floor Philadelphia, PA 19110 Tel: 215-568-9215
© Copyright 2004-2014 Computer Technology Institute. All rights reserved.
My own update/redesign of CTI's website
---
Domain Registered at:
|