---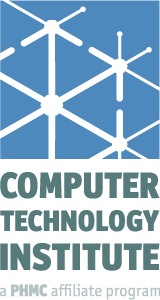 Computer Technology Institute is a nonprofit enterprise with the mission to change lives and help motivate our students to get where they want to be. We evaluate ourselves against this mission, and that is why we answer to you, the student. Understanding that you need to move forward now, we offer an accelerated, 15-month associate in specialized technology degree and constant interaction with staff and faculty to help you improve your technical and life skills.
As a student of CTI, you will recieve personalized attention thanks to our small class sizes. Our on-site job placement specialist will assist in securing an externship and a job after graduation.
CTI is nonprofit, we respond to you, the student.
100 S Broad St. 8th Floor Philadelphia, PA 19110 Tel: 215-568-9215
© Copyright 2004-2014 Computer Technology Institute. All rights reserved.
My own update/redesign of CTI's website
---
Domain Registered at:
|