---
MC's Oddities & Hilarious Products
---
Desktop Cat Seat
---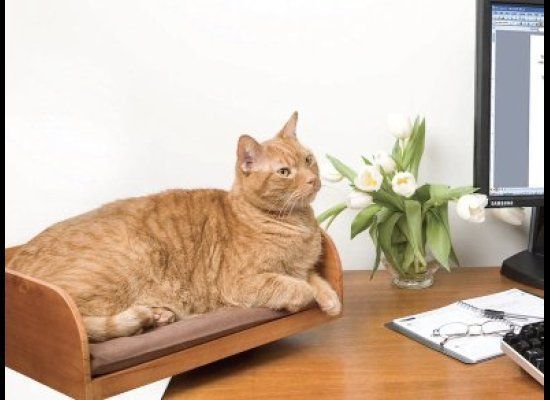 Cat nesting box keeps your pet close and comfy while you work.
Our Desktop Cat Seat gives cats a comfortable place to rest on the desk that's out of the way, yet still only an arm's length from a scratch on the belly. Designed for cat owners who work in a home or small office, this indispensable item maintains that all-important distance between paws and keyboard, while giving your cat a cozy nesting box that's still within easy reach of affection. The soft cushion and high walls will appeal to your cats, while you'll appreciate the solid pine construction in a choice of attractive finishes. It can be clamped firmly to either side of the desk, or simply placed flat on top--felt pads protect your furniture. Can support a 20-lb. cat, and even small dogs. Cushion cover is machine-washable. 16 1/4" w x 11" d x 5" h.
Desktop Cat Seat © 2012 Brookstone. All rights reserved.
---
Domain Registered at:
|
|